LED Drivers

Surge Protection Devices
OVERVIEW
We offer a leading range of top quality and compact constant current LED Drivers to ensure outstanding lighting performance and functionality for indoor and outdoor lighting applications. This range of LED Drivers is designed specifically for applications in poor line conditions and to withstand harsh environmental conditions. Includes unique functions like auto shutdown and recovery for low and high voltage conditions.
KEY FEATURES
Wide Input Operating Voltage: 140-270Vac
440V Input Voltage Protection
Immune to high surge stress up to 2kV with 1kA surge current
Ability to work in harsh industrial environment line conditions
Built-in intelligent PFC function
Power Factor >0.9
High efficiency up to 80%
Best suitable for lighting applications
Auto-shutdown and recovery from high input voltage
Auto-shutdown and recovery from low input voltage
Protections: Short-circuit, Over-current, Over-voltage, LED fault
Warranty: 3 years (Subject to warranty clause)
P8 Series
Suitable for 6W – 15W, Output Voltage: 12V – 56Vdc
Surge Protection: 2kV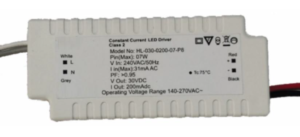 P9 Series
Suitable for 18W – 36W, Output Voltage: 24V – 72Vdc
Surge Protection: 4kV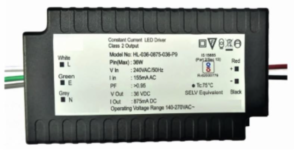 M7 Series
Suitable for 30W – 80W, Output Voltage: 36V – 96Vdc
Surge Protection: 4kV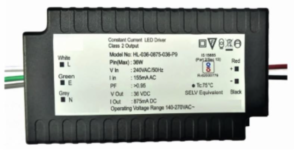 OVERVIEW
We offer surge protection devices that are specially designed for outdoor and commercial LED lighting fixtures for transient overvoltage protection. Its built-in thermal disconnect function provides additional protection to prevent catastrophic failure and fire hazard under extreme circumstances of varistor end of life or sustaining over voltage conditions. It also provides high line-to-earth/ground resistance, facilitating faster production line testing. The connected options allow LED indication of thermal fault protection by disconnecting power to luminaire and thereby signaling SPD module replacement.
KEY FEATURES
Maximum Discharge Voltage 5kV, 8/20us
Maximum Discharge Current 2.5kA, 8/20us
Thermally Protected Varistor Technology
IP66 Water & Dust Proof
Series connected-varistor thermal protection indication by removal of power to luminaire
High line-to-earth / ground resistance
RoHS complaint
SPD-5kV
Maximum Discharge Voltage: 5kV, /20uS
Maximum Discharge Current: 2.5kA, 8/20us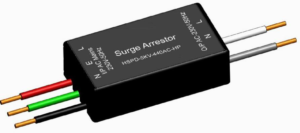 SPD-10kV
Maximum Discharge Voltage: 10kV, 8/20uS
Maximum Discharge Current: 5kA, 8/20us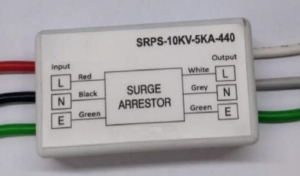 SPD-20kV
Maximum Discharge Voltage: 20kV, 8/20uS
Maximum Discharge Current: 10kA, 8/20us