Overview

Smart Street Light

Air Quality Monitoring

Smart Surveillance Camera

Wi-Fi Access Point

Digital Advertising

SOS/Emergency Call Button

Public Address System

EV Charger
A smart pole unleashes the true potential of the digital era. It is built on the foundational concepts of loT, edge computing, artificial intelligence, electric mobility, safety and sustainability. Smart poles provide an unique digital real estate to efficiently monetize infrastructure while addressing a number of industry segments through their modular and multifunctional capabilities. Hynetic offers tailor-made smart poles to meet the end needs of a customer while keeping in mind the affordability and reliability of the technology solution.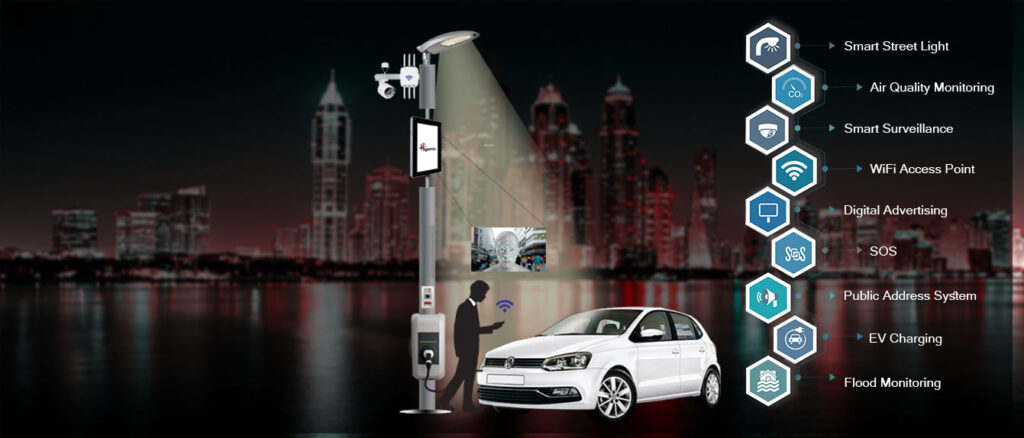 A Smart Street Light Solution is designed to create an overarching digital control system that is based on the concept of IoT, and cloud computing to deliver efficiency to existing street light grids. Hynetic's Smart Street Light System comprises a network of key infrastructure elements with a combination of sensors and peripheral devices that can be managed through the internet to monitor and control street lights.
CCT stands for Correlated Color Temperature and defines the perceived color of the light like warm white, neutral white and cool white color. Hynetic is using CCT changing mechanism in bulb solution for different color appearance in bulb to facilitate synchronization of indoor lights to natural circadian rhythms and helps improve productivity and mood of occupants.
Real-time monitoring and live broadcast of air quality parameters
Sensing parameters – CO, CO2, NO2, O3, O2, SO2, PM 2.5, PM 10, Light, UV, Noise Level, Temperature, Humidity, Pressure etc.
Data analytics to consolidate and report trends by leveraging on ML and AI frameworks
Web application for visualization of data - seamless integration to smart cities command centers through REST API's
Framework for city councils to take measures for improving health and quality of life through data-driven decisions
Real-time analysis and action triggers for unusual activity
AI on the Edge for constant training and performance optimizations
Live Video Streaming at Command Center
Object Detection - Pets, Humans, Cars, Trucks, Buses
Highly optimized street light intensity control based on scene analysis
Crime detection and alerts
Traffic Density Detection and Management.
Secure storage of surveillance feed
Air conditioning systems consume a significant share of energy in buildings. Embedding smart connectivity and control to Air Conditioners can make them energy efficient. Hynetic offers unique solutions that can leverage on existing infrastructure to optimize their energy efficiency through smart control. Traditional air conditioners can be controlled though local remote with limited basic features. Hynetic offers Smart Air Conditioner solution with added features to increase the efficiency utility.
Long-range, high-speed access points provide expansive
network coverage outdoors
Dual-Band speeds to 1300 Mbps on 5 GHz and 450 Mbps on 2.4 GHz
Band Steering shifts dual-band-capable users to the less-congested
5 GHz band, optimizing bandwidth.
6 Wide-Reaching, Detachable Antennas; Pair With 3x3 Sector
Antenna for Extended Coverage
Robust 29 dBm transmit power ensures long range connectivity
2 Gigabit PoE-Compliant ports
Industrial-Grade IP68-Rated waterproof housing withstands harsh
environments
Platform to deploy, manage and monetize advertising content
Advanced context engine for targeted advertising optimized for ROI
Contextual advertising is powered by Computer Vision and IOT on the Edge
Ability to deploy interactive and engaging advertising based on gender,
age, locations and various other predefined context parameters
Intuitive backend dashboard to manage content and perform trigger
analytics for ROI optimization
Operable on IoIP or SIP telephony systems with a single Ethernet Cable
Broadcast message to all locations or multicast messages to specified
locations with fidelity to control every individual speaker
Built-in microphone enables intelligent volume control based on ambient
acoustics for superior intelligibility and speech quality
Microphone enables two-way communication and acoustic surveillance
with real-time announcements
Additional I/O's enable monitoring and controlling third-party subsections
and triggering pre-defined actions
AC Charger compatible with IEC 61851 / IEC 62196 / IEC 15118
RFID for billing payment – backend integration to OCPP
Supports Ethernet communication / Wi-Fi / 4G (LTE)
Overvoltage and overcurrent protection
IP54 protection